UPDATED for 2023:
Holiday Travel Statistics: Travelers Concerns for Upcoming Season, Busiest U.S. Airports
America's 2023 Travel Outlook
---
For many Americans, the plane tickets have been booked and the bags have been packed as travelers are eager to take much-needed vacations, but what will vacations look like this summer?
After conducting a survey on travel sentiment earlier this year, we re-visited the topic six months later to see how feelings toward travel have changed.
Summer 2021 Travel Outlook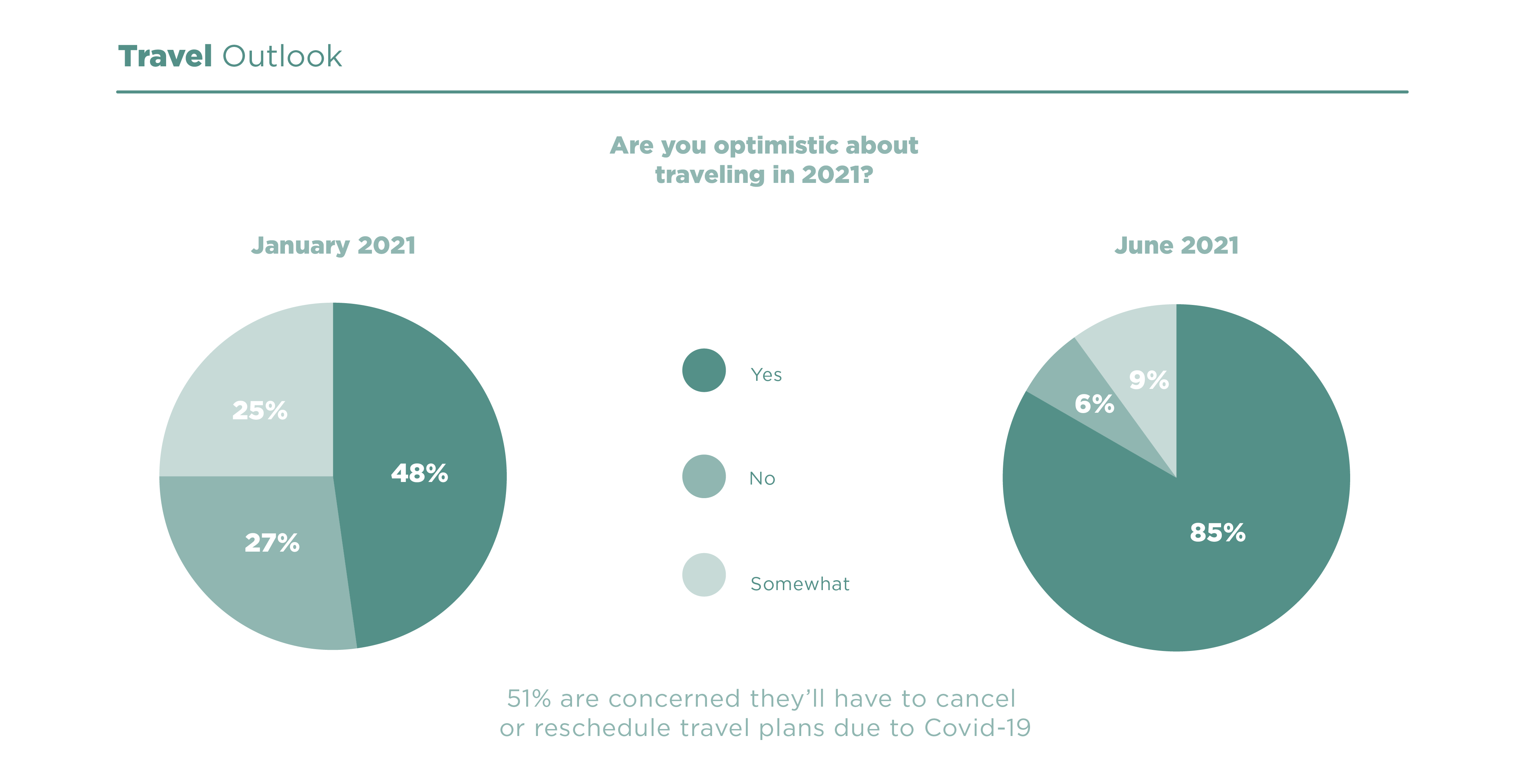 According to respondents, Americans are feeling even more optimistic about traveling than they were earlier this year. When we conducted our 2021 Vacation Survey in January, less than half (48%) were optimistic about traveling this year, but now optimism has increased to 85%.
Vacation Plans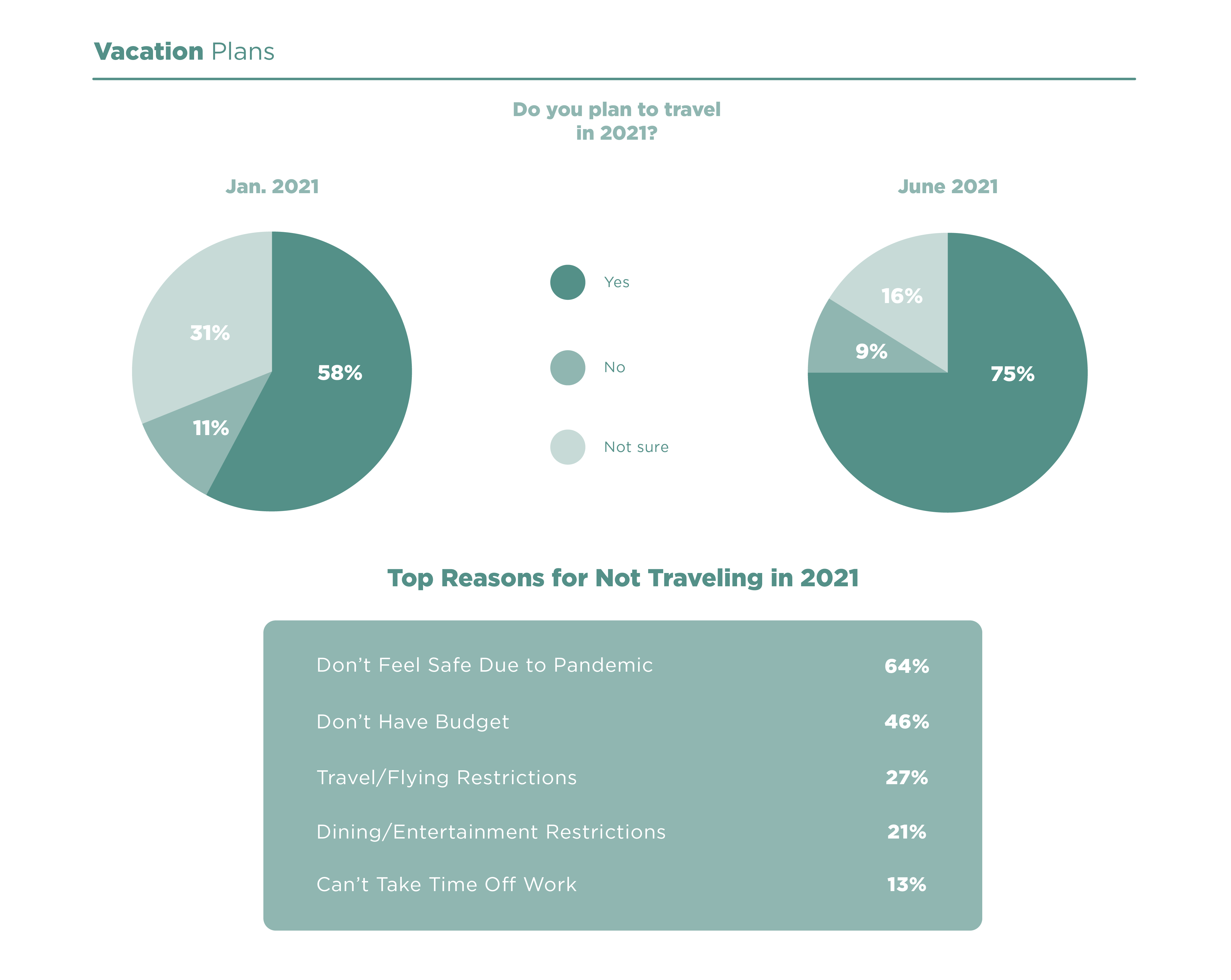 Along with an increase in travel optimism, our recent survey also shows an increase in Americans making travel plans this year. According to respondents, 75% plan to travel this year, which is up from 58% in January.
And not only are respondents planning on taking a vacation this year, but more than half (55%) have already booked their trips.

When are Americans planning to travel in 2021? According to respondents, more than one-third plan to take a trip this summer while 39% say they will vacation either this fall or during the winter. Only 12% of respondents say they "aren't sure" when their next vacation will be.
Of those who plan to travel, 71% say they'll stay within the U.S., 17% plan to travel abroad and 12% say they'll travel both domestically and internationally.
Respondents say they have an average of 2.5 trips planned for 2021 with the average length of their trips lasting about 4 days.
Vacation Budgets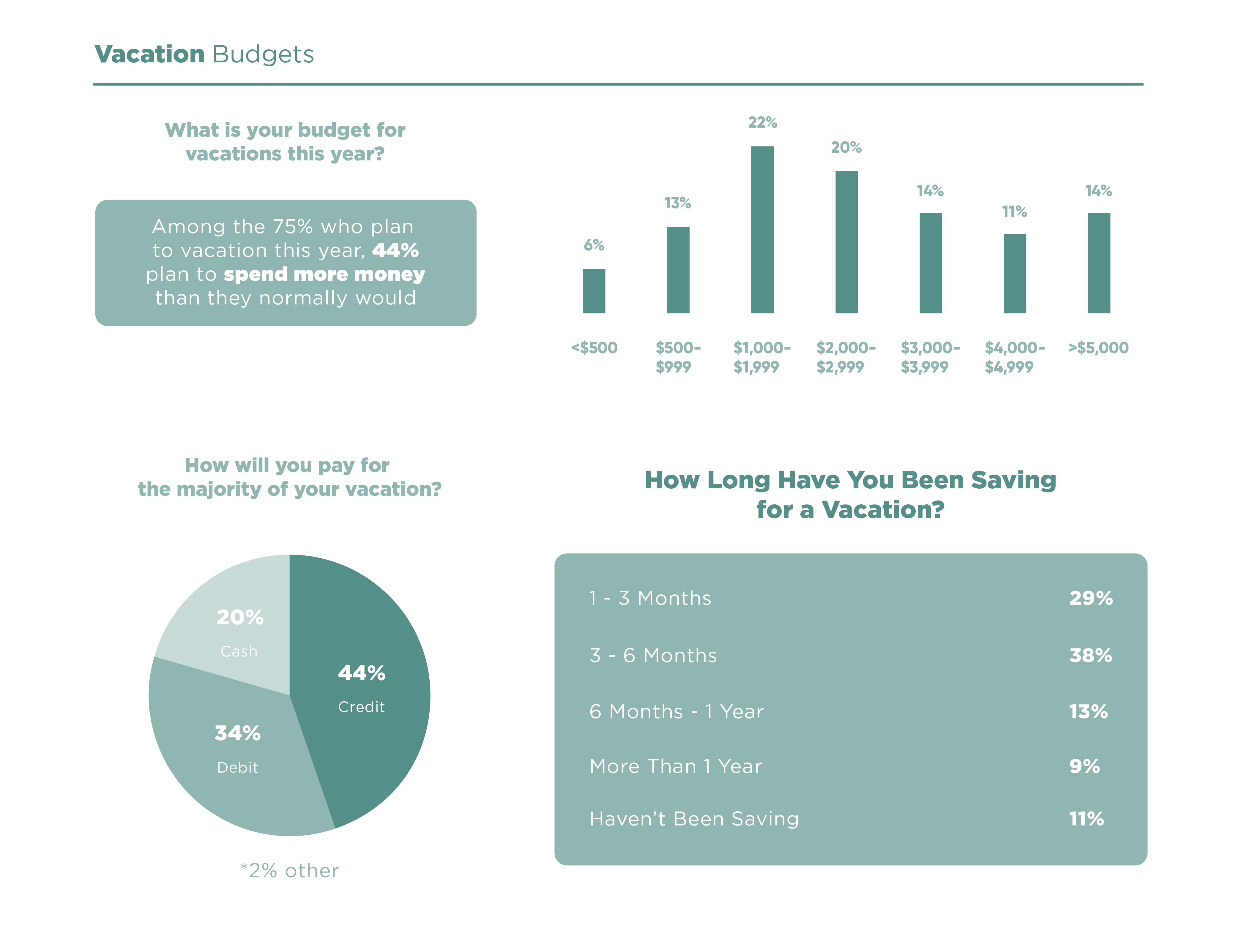 Among those who plan to vacation this year, 44% say they expect to spend more money on their trip than they normally would spend. Overall, 59% of respondents say they have budgeted $2,000 or more for a trip this year and a majority (67%) have been saving up within the last six months.
Vacation Homes and Accommodations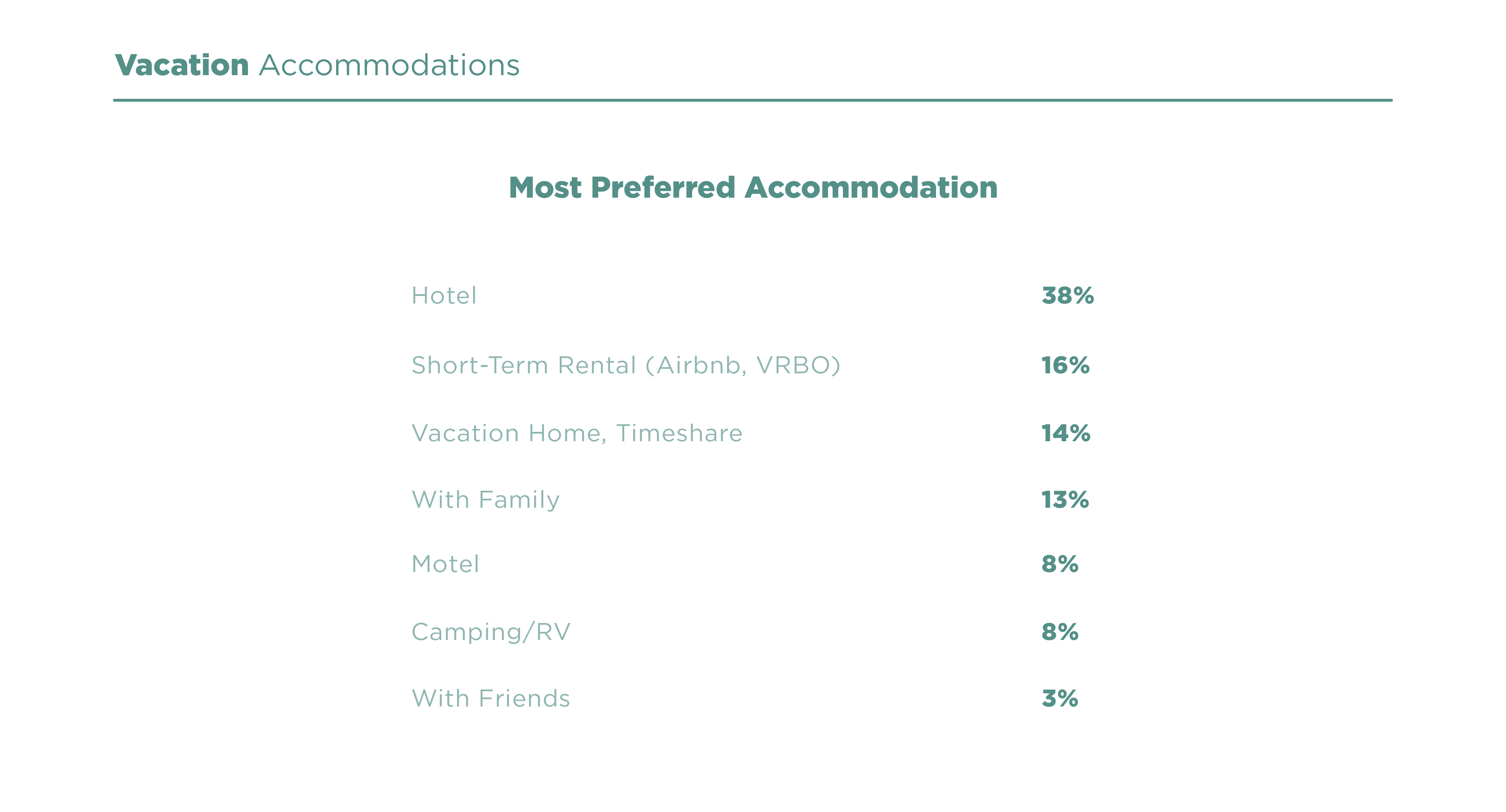 With an increase in remote and hybrid work, vacation homeowners have been spending a lot more time at their properties within the last year. In fact, among vacation homeowners, 84% say they've been spending more time at their property.
Hotels have also seen an increase in customers as travel restrictions ease throughout the country. According to respondents, 38% say they prefer to stay in a hotel when vacationing this year, 16% prefer a short-term rental such as Airbnb or VRBO and 14% prefer a vacation home or timeshare.
Summer Flying

When we asked whether travelers felt safe being on an airplane in January, less than half (48%) said they felt comfortable boarding a flight. When asked the same question in June, that number increased to 71%. Overall, more than half (55%) believe that travel will fully return without any restrictions by the end of the year. However, despite optimism about traveling this summer, 75% of Americans say they have concerns about unruly passengers on flights.

Vaccines have played a large factor in how and when Americans will travel. According to respondents, 75% say they are either already vaccinated or plan to travel after they receive the vaccine.

After a long year of quarantine and travel restrictions, many Americans left PTO on the table. In fact, 57% say they had unused PTO last year and nearly half (48%) say they haven't taken a vacation in more than one year. If you're thinking about traveling this year, it might be time to put in that PTO request sooner rather than later.
---
If you have a vacation home or are planning on buying, click here to learn more about how a 1031 Exchange can help preserve your assets when selling and buying investment properties. Then read our Increase in Post-Covid Travel Spurs Interest/Questions/Demand in 1031 Vacation Property for some timely suggestions. Click here for more information about IPX1031, the nation's largest 1031 Exchange intermediary.
---
Methodology
From June 21 – 24, 2021, we surveyed 1,497 Americans between the ages of 18-76 with a median age of 38. Forty-five percent of respondents were female and 55% were male. According to respondents, 63% had taken a vacation since March 2020, which was up from 40% when a similar survey was conducted in January 2021. The average age of respondents was 38 years old.
For media inquiries, contact media@digitalthirdcoast.net
---
Read more:
Increase in Post-Covid Travel Spurs Interest/Questions/Demand in 1031 Vacation Property
How Americans Plan to Vacation During Covid-19
How to Buy Your Vacation Home with a 1031 Exchange
Strategically Buying Your Dream Vacation Home with a 1031 Exchange
Where the Vacation Home Market Has Grown the Most
Data Reveals Vacation Home Hot Spots Across the Country 
Do Vacation and Second Homes Qualify?
Revenue Procedure 2008-16
Cities with the Most Airbnb Properties
Best Cities to Buy Airbnb Investment Property