Over the last 10 years, vacation rental company Airbnb has grown from a small startup with a few properties to a billion-dollar, global company that has disrupted both the vacation rental industry as well as the hotel industry. Airbnb has also changed the landscape for rental property investors. Hosts can make a substantial profit by renting out their investment properties to members who use the online marketplace for vacations, business trips, or other accommodation reasons.
We were curious to find out where Airbnb hosts can get the most "bang for their buck" and make the most annual profit. Using data from short-term rental analytics database AirDNA, we ranked the best cities to invest in property to rent out through Airbnb.

---
Now that we've found where property investors can gain the most profit through Airbnb, let's take a look at the cities where renters can find the best deals. In order to create our ranking for best cities for renters, we looked at the average daily rate in each city as well as the percent of "superhosts." Airbnb superhosts are hosts that go above and beyond to create the best experience possible for renters. You can be sure you'll find a chocolate on your pillow (and maybe even a towel in the shape of an animal) at these Airbnbs.
We created this weighted ranking using an overall score of 100 points, with 50 points for average daily rate and 50 points for percent of superhosts. Finally, we looked at the cities where renters have the best and worst chances of having an enjoyable experience by ranking cities with the most and least amount of superhosts.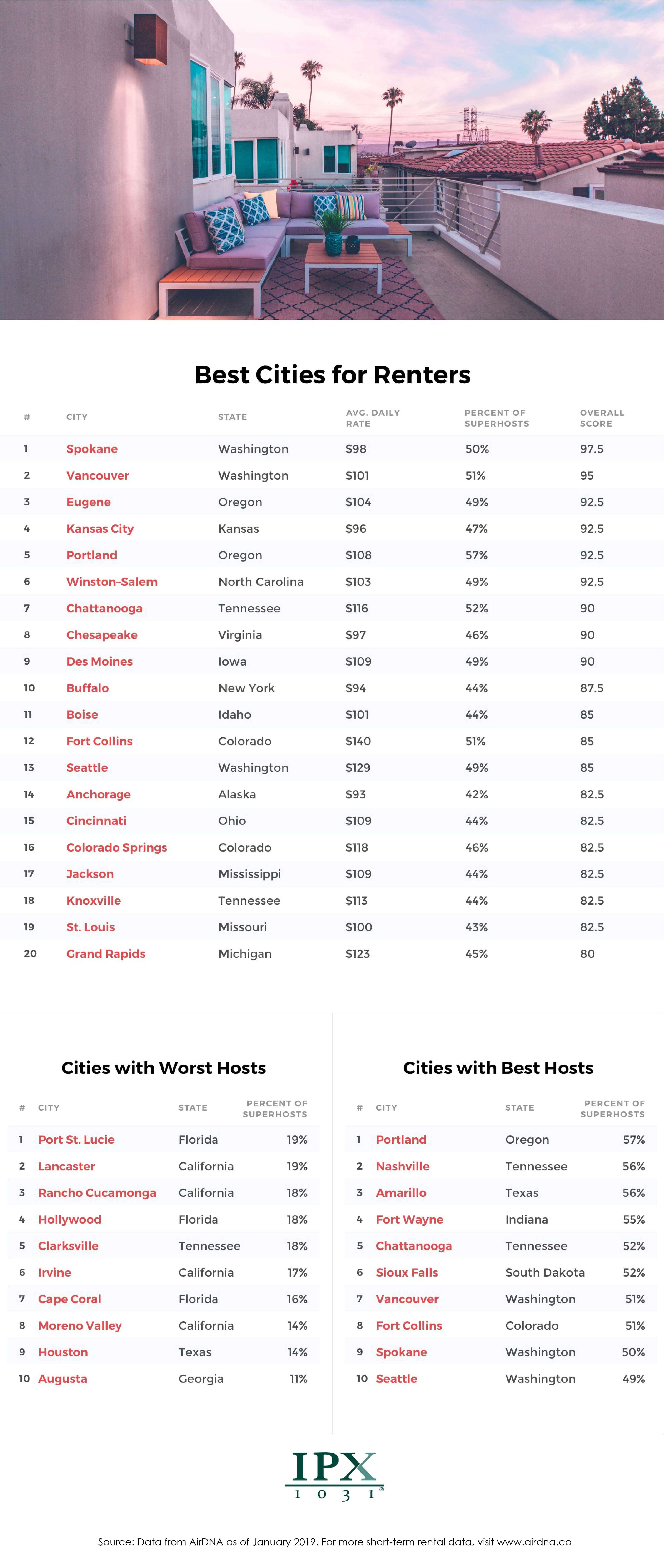 ---
Methodology
We researched cities with populations of 150,000 or more to determine our list of best cities for Airbnb investment properties. We gathered Airbnb data using short-term rental analytics from AirDNA. From there, we needed to calculate how much potential profit an investor could make on a property in each city. Using AirDNA data, we looked at the average daily rate and average monthly occupancy rate in each city to determine monthly Airbnb revenue. Using data from Zillow, we looked at the median home price in each city and estimated the monthly mortgage payment using Zillow's Mortgage Calculator. This calculator is based on a 30-year fixed loan at 4.3% interest and a down payment of 20%. The average annual profit represents the potential amount of money an investor would make annually after paying their mortgage payment. Please note that Superhost status on MarketMinder was removed in March 2019.
Click here to learn more about how a 1031 Exchange can help preserve your assets when selling and buying investment properties.