The new year is here and many Americans are sorting out their vacation and travel plans for 2023. Whether that means a staycation, a European road trip, or a weekend at a rental home, we wanted to find out how people across the U.S. plan to travel. We surveyed more than 1,000 Americans and found the majority are planning trips, with nearly 1 in 3 planning to stay at a vacation rental home.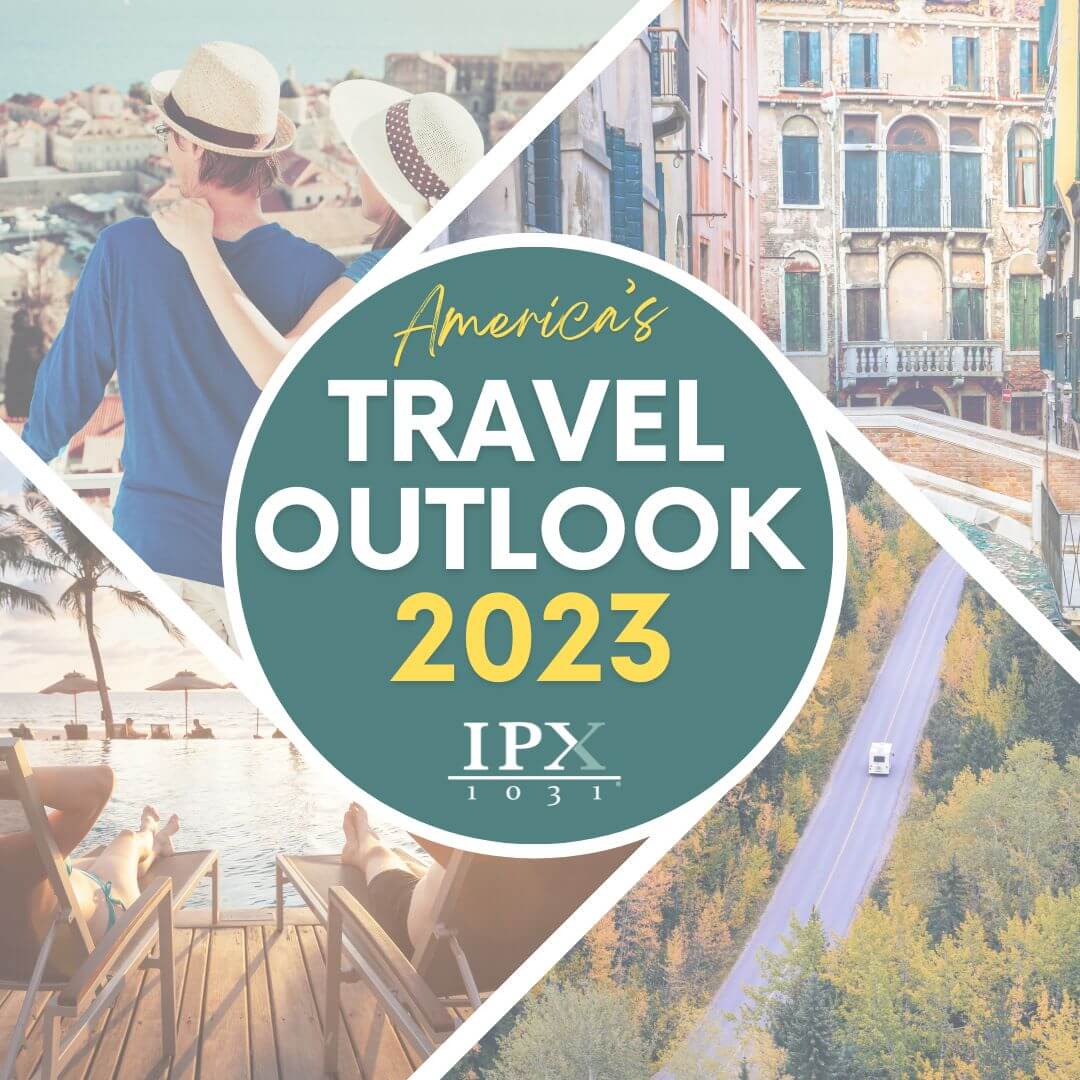 Americans' 2023 Travel Plans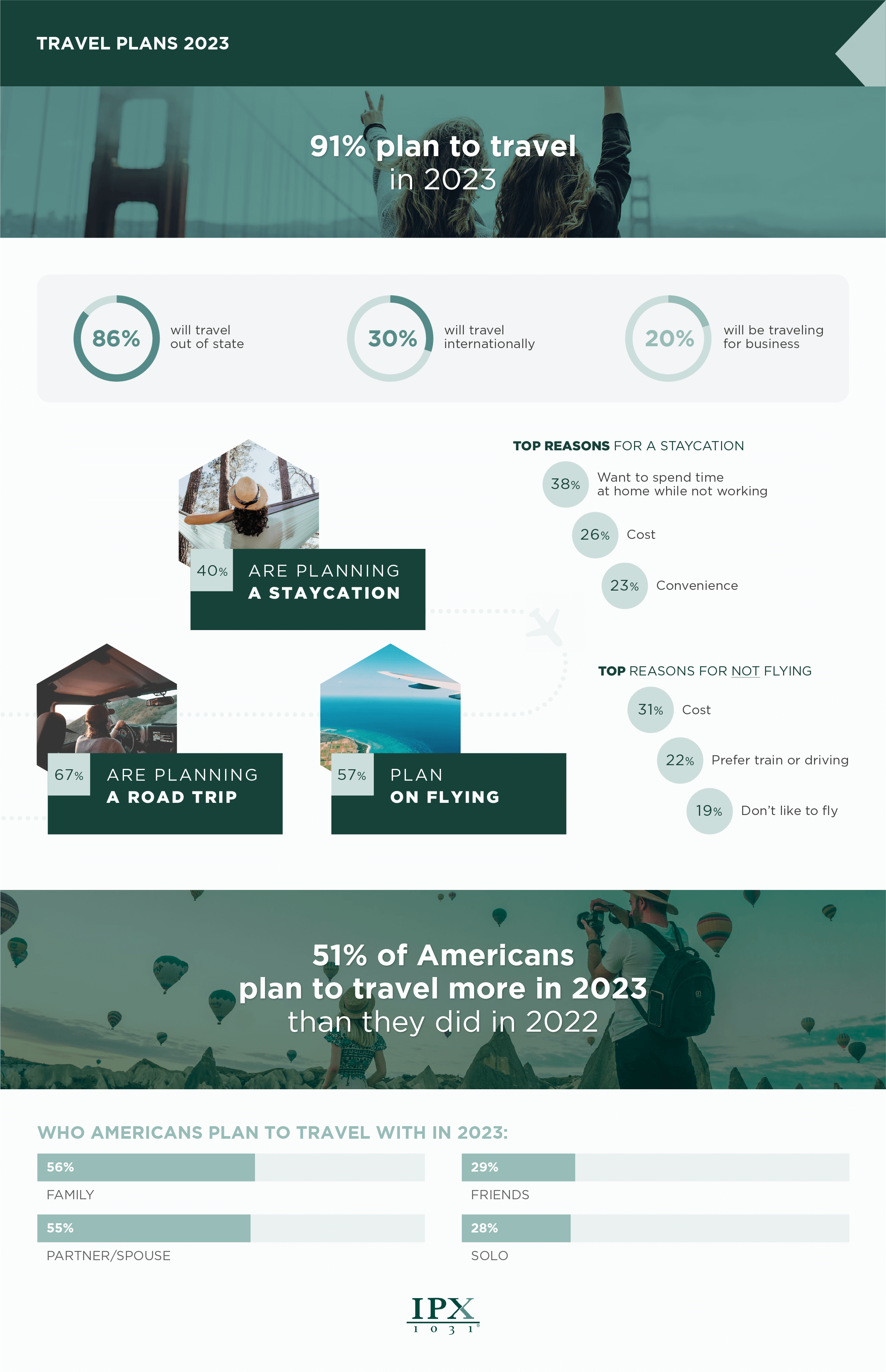 More than 90% of Americans plan to travel in 2023. The majority (86%) are planning a trip out of state, while nearly 1 in 3 (30%) are planning on vacationing abroad. Not everyone traveling in 2023 will be doing so for pleasure, as 20% will be traveling for business.
A long travel day isn't for everyone, in fact, 40% are planning a staycation this year. The top reasons include wanting to spend time at home while not working (38%), cost (26%), and convenience (23%).
More than half of Americans (67%) are also looking into a road trip this year. Slightly fewer (57%) plan on flying. The top reasons why people will not be catching a flight in 2023 include cost, preferring to take a train or driving, and not liking to fly.
The travel bug has bitten the majority of Americans as 51% plan to travel more in 2023 than they did in 2022. Furthermore, 41% plan to travel the same amount, and 8% plan to travel less. More than 1 in 2 (56%) will be taking a trip with family members, 55% will be joined by their spouse or partner, 29% will be traveling with friends, and 28% are planning a solo trip.
Travel Budgets in 2023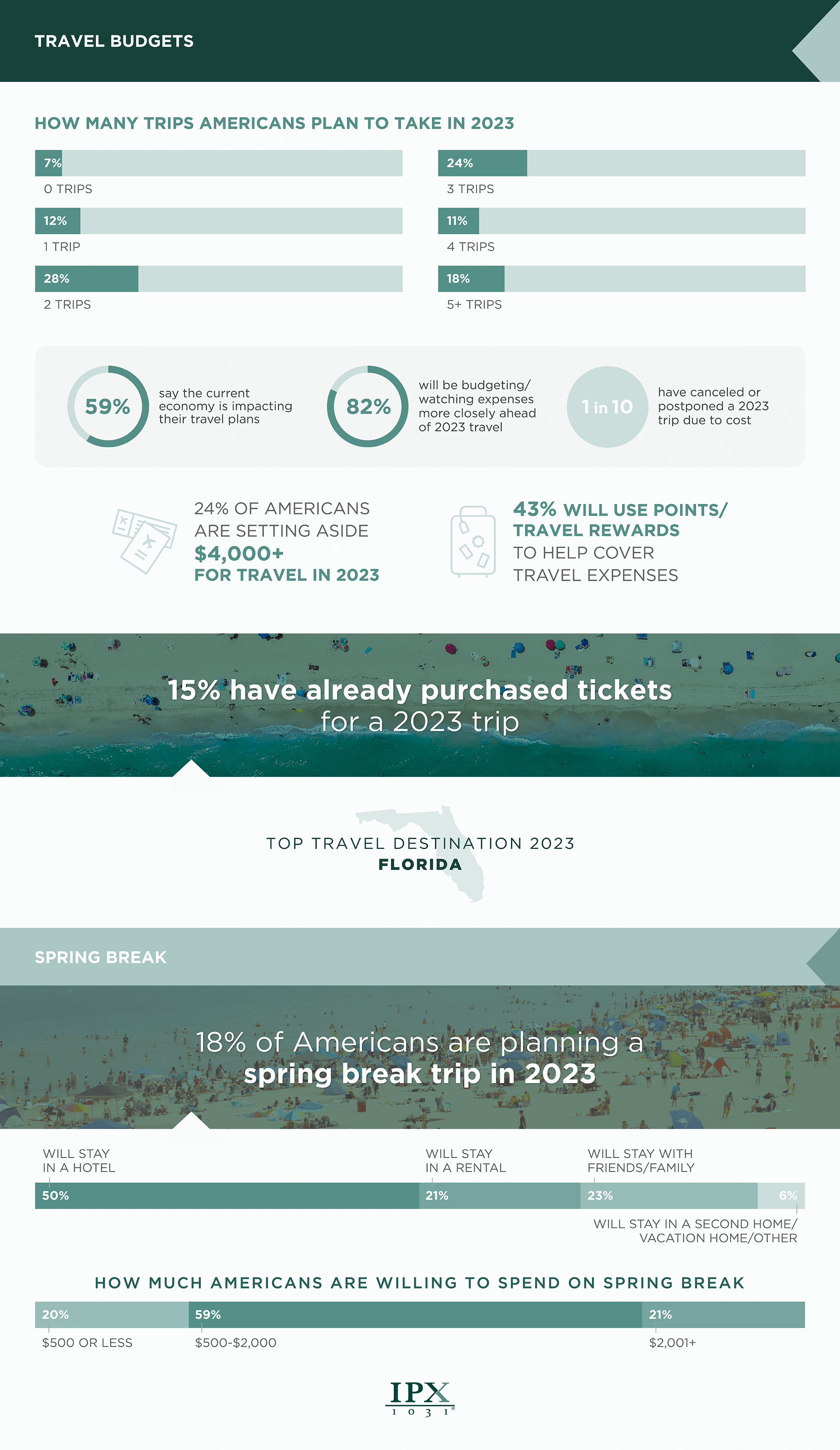 While some people may fill up their schedule with travel plans, others may only be taking a few trips throughout the year. More than 1 in 10 (12%) will be taking one trip in 2023, 28% are planning two, 24% will be taking 3 trips, 11% are planning 4, and 18% are planning more than 5 trips.
59% of Americans say the current economy is impacting their travel plans. Additionally, 82% will be budgeting and watching their expenses more closely ahead of 2023 travel, and 1 in 10 have canceled or postponed a trip this year due to cost.
When it comes to just how much Americans plan on spending, 24% are setting aside $4,000 or more for travel in 2023 and 43% will use travel rewards to help cover expenses. The top destination among Americans in 2023: Florida.
The Sunshine State may be a popular location for Spring Break. In fact, 18% of Americans are planning a spring break vacation. More than half (51%) of those going on spring break will stay in a hotel, 21% in a rental home, 23% with friends/family, and 6% in their second home.
America's Travel Accommodations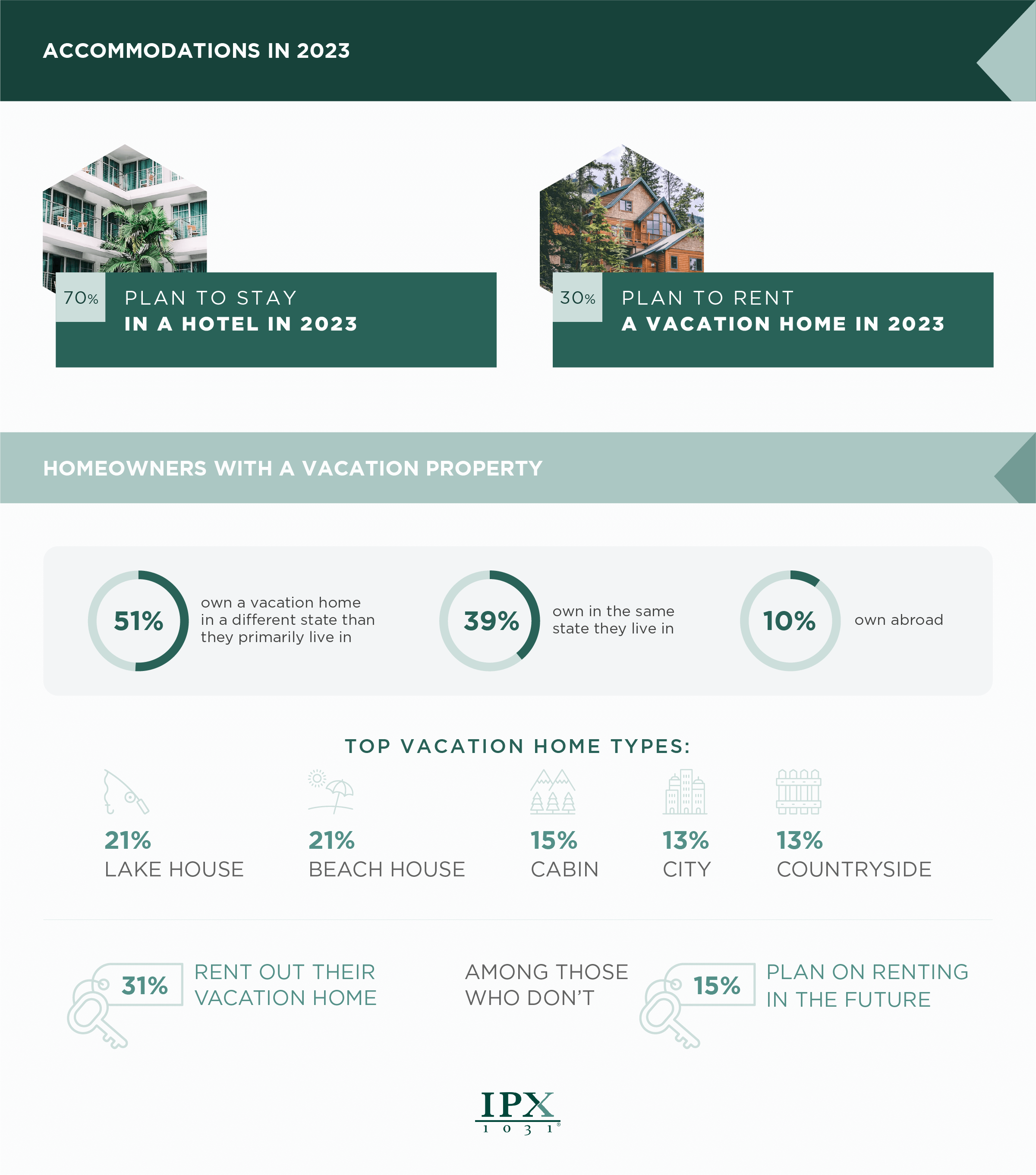 While vacationing this year, 70% of Americans plan to stay in a hotel and 30% plan to rent a vacation home.
Among second-home owners, 51% own a second home in a different state, 39% own in the same state where they live, and 10% own a second property abroad. The most common types of vacation homes Americans own are lake houses (21%), beach homes (21%), and cabins (15%).
Currently, 31% of second-home owners rent out their property. Among those who don't, 15% plan on renting out their home in the future.
---
If you have a vacation home or are planning on buying, click here to learn more about how a 1031 Exchange can help preserve your assets when selling and buying investment properties. Then check out our report on the Most Desired Airbnb Destinations in Every State and How to Buy Your Vacation Home with a 1031 Exchange. You can find more information here about Investment Property Exchange Services, Inc. (IPX1031), the nation's largest 1031 Exchange company.
---
Methodology
In December 2022, we conducted a survey of 1,003 people from around the U.S. Among respondents, 49% identified as male, 49% as female, and 2% as non-binary or transgender with an average age of 41.
For media inquiries, contact media@digitalthirdcoast.net
Fair Use
When using this data and research, please attribute by linking to this study and citing IPX1031.
---
Read more:
Opportunities of the 1031 Exchange
How to Buy Your Vacation Home with a 1031 Exchange
Revenue Procedure 2008-16
Do Vacation and Second Homes Qualify for 1031 Exchanges?
Strategically Buying Your Dream Vacation Home with a 1031 Exchange
How to Buy Your Dream Home with a 1031 Exchange
Capital Gains Estimator
What is a 1031 Exchange?
IPX1031 Knowledge Center