UPDATED for 2023:
Holiday Travel Statistics: Travelers Concerns for Upcoming Season, Busiest U.S. Airports
America's 2023 Travel Outlook
---
With 2020 in the rearview mirror, Americans are feeling hopeful about travel and taking much-needed vacations in 2021, but will vacations bounce back this year?
We surveyed Americans to find out if they plan to travel this year and, if so, what their travel itineraries, budgets and accommodations look like for 2021.
2021 Travel Outlook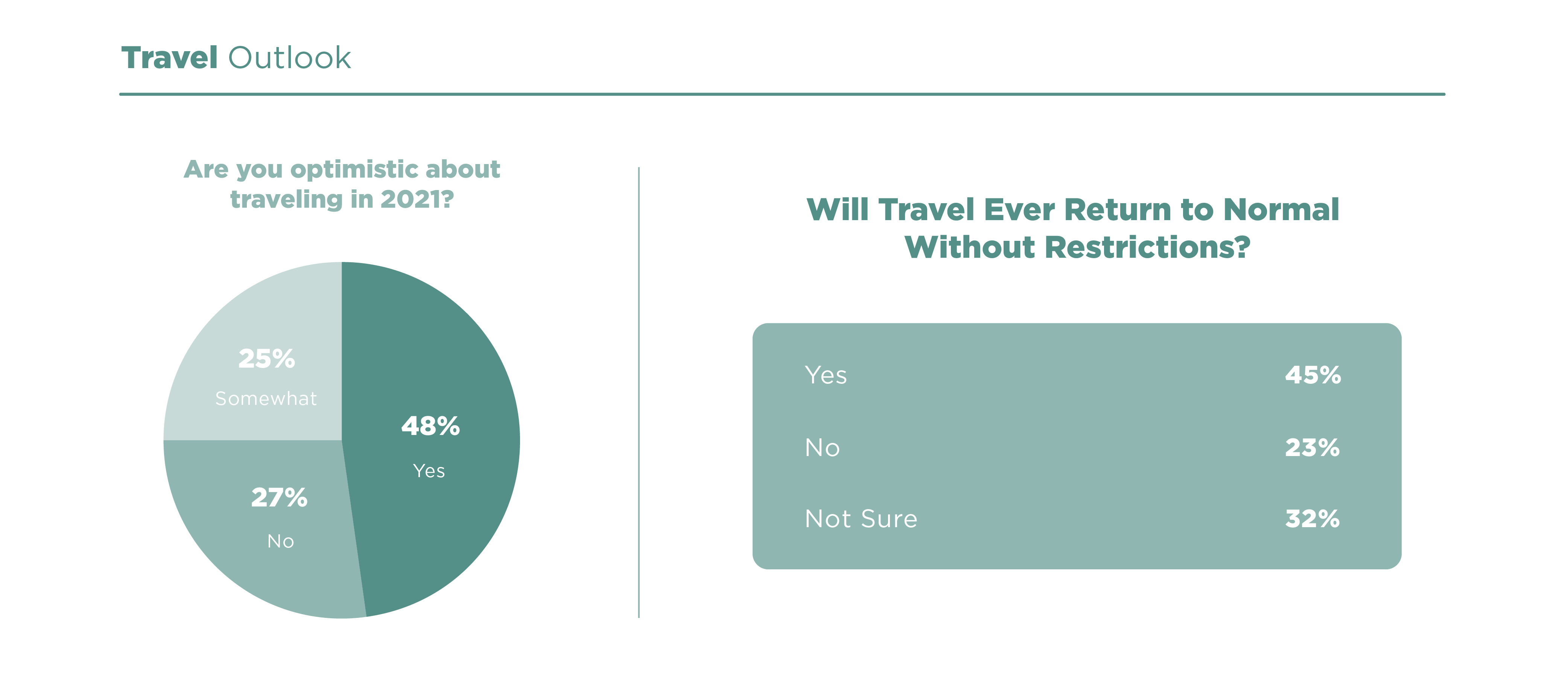 According to respondents, nearly half (48%) say they are feeling optimistic about traveling and vacationing in 2021 while a quarter say they are "somewhat" optimistic. In terms of traveling without any restrictions, 45% say they believe travel will return to a pre-pandemic level of normalcy.
2021 Vacation Plans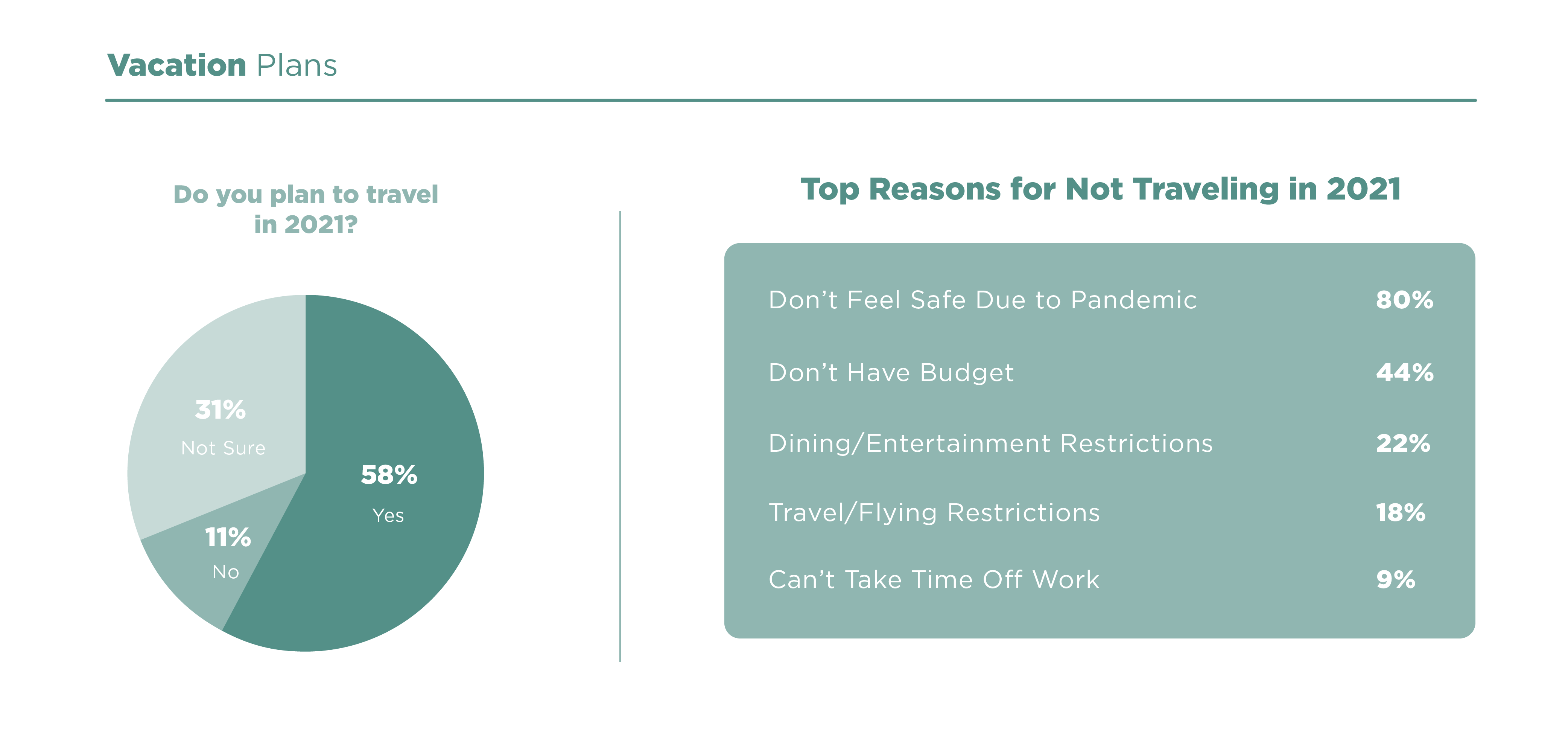 As Americans begin receiving vaccinations for Covid-19, many are already planning to travel this year. In fact, more than half (58%) say they have travel plans this year with one-third of those planning on vacationing during spring break. Some are not wasting anytime as 42% already have their trips booked.
Among all respondents, 20% still are not sure when they will vacation again, but 33% say they plan to pack their bags and vacation by this summer. Safety and health concerns during the pandemic is the top reason for Americans holding back on vacationing this year followed by financial reasons.
Speaking of vacation budgets, 70% of respondents say they can currently afford to take a vacation with the average budget being around $2,470. And if the federal government issues a new stimulus, more than one-third (36%) say they would spend their stimulus check on a vacation.
According to respondents, 29% are eager to take advantage of their vacation time this year by taking a longer vacation compared to previous years. A majority of respondents are also viewing safety as a top priority when they travel. Overall, 62% say they will only travel to areas with a low number of cases and 73% are prepared to cancel or postpone their trip if cases spike in the destination they plan to travel to.
Vacation Homes and Accommodations
While there are many options when it comes to vacation accommodations, a vacation home is perhaps the most convenient. Without having to worry about when and where to book your stay, a vacation home provides the ultimate gateway for second homeowners because, after all, it is your own home, so you might as well get the most use out of it that you can.
In fact, of the 24% of vacation home and timeshare property owners we surveyed, 67% say they've used their vacation home as a primary residence during the pandemic.
Other popular accommodations that travelers prefer include hotels, staying with family and short-term rentals such as Airbnb and VRBO.
Traveling and Covid-19  

When will Americans feel safe flying again? According to respondents, nearly half (48%) say they feel safe flying this year and 80% say they will feel safe taking to the skies in 2022. Most (72%) say they will feel safer flying after being vaccinated.

Regardless of when they plan to travel, one thing most Americans can agree on is that we could all really use a vacation. More than half of respondents (57%) say they've gone a year or longer without taking a vacation.

Only time will tell how many Americans will vacation this year, but it's clear that many are feeling optimistic about travel in 2021.
---
If you own or are planning on purchasing investment vacation property, click here to learn more about how a 1031 Exchange can help preserve your assets when selling and buying investment properties. Then read our How to Maximize 1031 Vacation and Rental Property During Pandemic Times for some timely suggestions. Click here for more information about IPX1031, the nation's largest 1031 Exchange Accommodator.
---
Methodology
From Jan. 13 – 20, 2021, we surveyed 2,020 Americans between the ages of 18-79. Forty-four percent of respondents were male and 57% were female. According to respondents, 40% had taken a vacation since Covid-19 (March 2020 – January 2021) and 59% were planning on taking a vacation this year. The average age of respondents was 37 years old.
For media inquiries, contact media@digitalthirdcoast.net.
---
Read more:

How to Maximize 1031 Vacation and Rental Property During Pandemic Times
Best Large Cities to Buy Investment Property 2020
Best Cities to Buy Investment Property 2020
Cities with the Most Airbnb Properties
How to Buy Your Vacation Home with a 1031 Exchange
Where the Vacation Home Market Has Grown the Most
Data Reveals Vacation Home Hot Spots Across the Country
1031 Exchange and Defer? Or Sell and Pay Taxes?