Being an investment property owner can be a lucrative way to bring in extra income, or even lead to a full-time job, but the key is to know where and when to invest. In order to determine the best cities to buy an investment rental property, we recently analyzed home values and median rent as well as other key factors in 310 cities around the country.
The cities on our list all have a population size of 100,000 residents or more and were ranked based on five metrics: median home value, year-over-year home value growth, 10-year population growth, annual property tax and annual return.
On average, home values on our list of the 30 best cities for investment properties have increased by 6% year-over-year. These cities also offer an average annual yield of $6,150, which represents potential profit after mortgage, property taxes and homeowner's insurance. We also displayed home value to gross rent ratio, which represents the number of rent payments it would take to pay for a home in each city based on median rent and median home value if a home were financed based on a 30-year mortgage with a 4% fixed interest rate.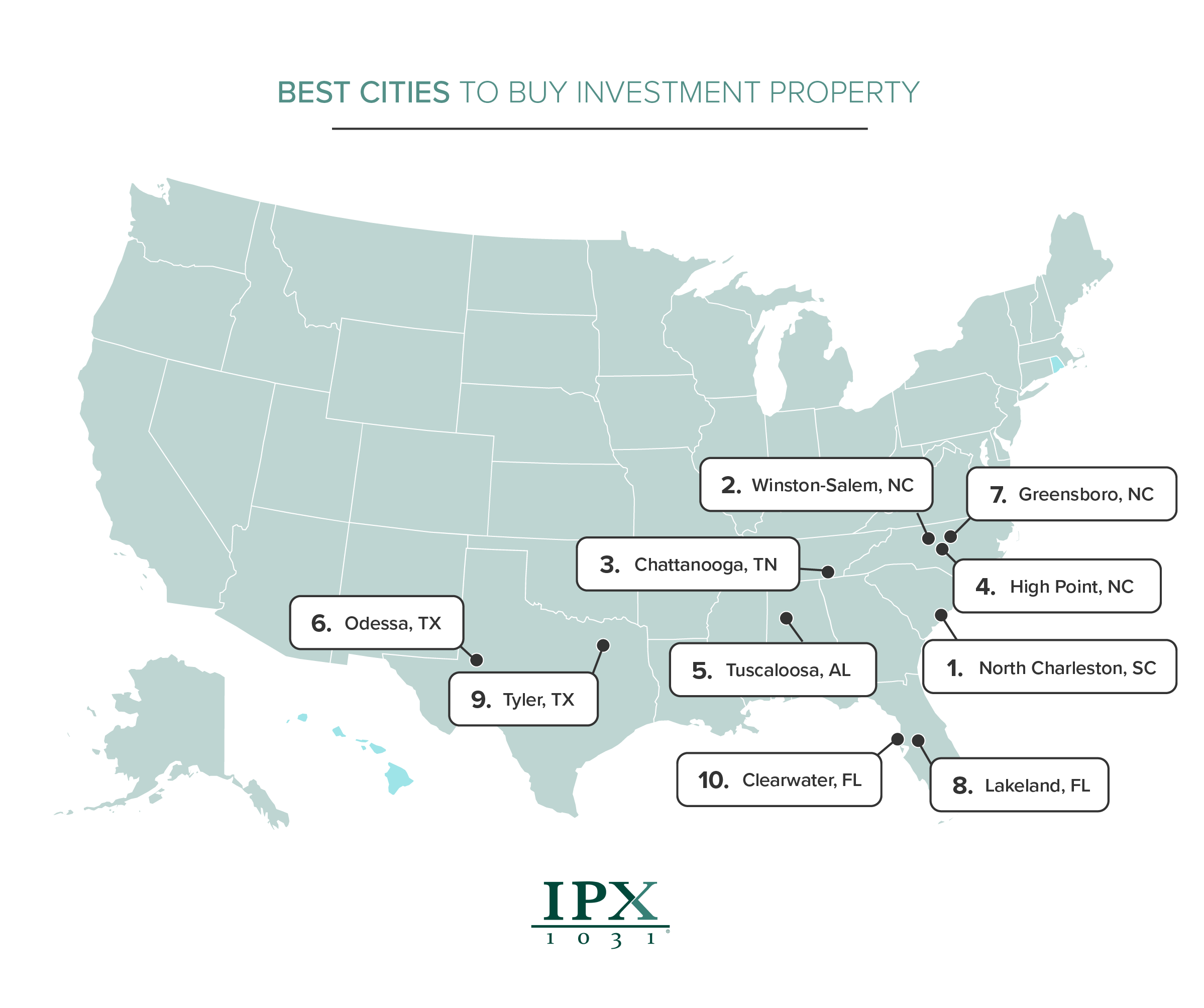 Head South
Except for six cities (Pueblo, Kansas City, Lancaster, Cincinnati, Grand Rapids and Colorado Springs), every remaining city on our list of 30 is located in the south or southeast. Texas, Tennessee and Florida are the most predominant on our list.
Bigger and Better in Texas
Despite the state having some of the highest property tax rates in the country, Texas still makes a strong showing on our list with a total of eight cities. So, what makes Texas so great for investment rental properties? For one, these eight cities have affordable home prices, averaging around $153,000. The lower home prices coupled with higher median rent prices result in an average annual return of $5,700 among these eight Texas cities.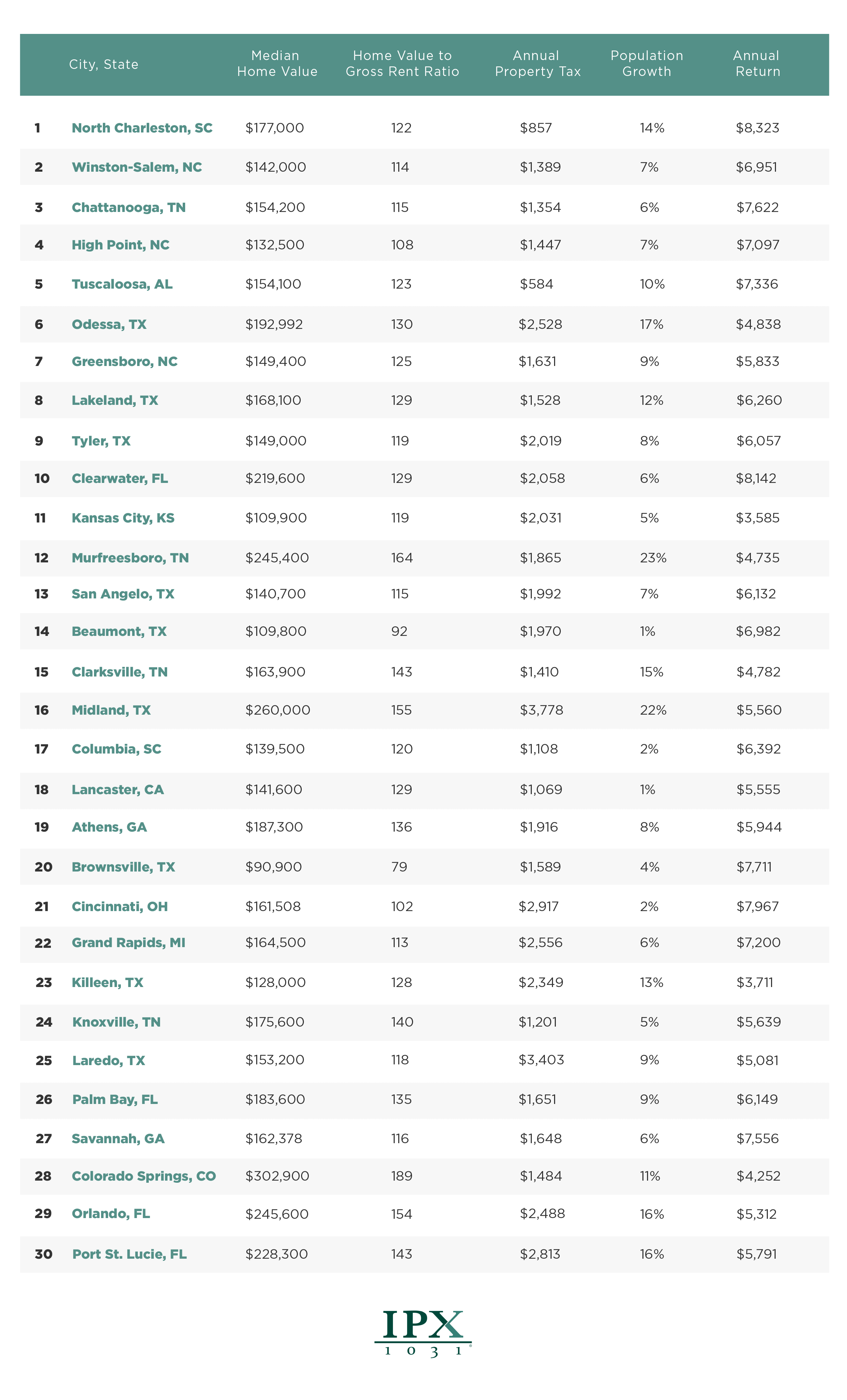 1. North Charleston
Looking to invest in a rental property? Look no further than North Charleston. South Carolina's third-largest city offers annual returns as high as $8,323 based on a median home value of $177,000 and median rent of $1,450. It also offers some of the lowest property taxes on our list at $857 annually. And to top things off, North Charleston has seen a population boom with 14% growth in the last ten years.
2.  Winston-Salem
Investment property owners won't have to travel too far to find the No. 2 city on our list, Winston-Salem, North Carolina. Those looking to invest in a rental property can find a very reasonable median home value at $142,000, which could bring in annual returns close to $7,000. The city also recently saw higher employment growth than other North Carolina metro areas, including Charlotte, according to the Bureau of Labor Statistics.
3 . Chattanooga
Nestled along the Tennessee River in southeastern Tennessee, Chattanooga not only offers picturesque landscapes, but it also provides attractive annual returns for investment property owners at $7,622, which is the fifth highest on our list.
4.  High Point
Conveniently located between Greensboro and Winston-Salem, High Point is another city that investment property owners will want to keep on their list. While the city has a somewhat smaller population of just over 112,000 residents, it's an affordable housing market with a median home value of $132,500 and high annual yield of $7,097.
5.  Tuscaloosa
The No. 5 city on our list is home to the University of Alabama. With an undergraduate enrollment of more than 33,000 (24,000 of which live off-campus), the University of Alabama provides rental property owners with ample opportunity for tenants. With a reasonable median home value at $154,100 along with a median rent of $1,256 and low property taxes ($584), investment property owners could see annual returns as high as $7,336.
---
Whether you're considering becoming an investment property owner, or already own investment properties, utilizing a 1031 Exchange can defer capital gain taxes on investment property. You can use our Capital Gain Estimator or click here to learn more about how a 1031 Exchange can help preserve and grow your assets when selling and buying investment properties.
---
Methodology
To determine the best cities to buy an investment property, we compared 310 cities with a population of 100,000 or more. From there, we considered median home value, year-over-year home value growth, 10-year population growth, annual property tax and annual return for each city. Data for 10-year population growth was collected from the U.S. Census Bureau. Median housing cost, median rent and year-over-year home value growth data was collected from Zillow. Each factor was graded on a 100-point scale and then weighted to determine a final ranking.
We determined an overall weighted average based on the following:
Median Home Value: Median home value in each city. (20 points)
Home Value Growth: Year-over-year home value growth (as of December 2019, not displayed in the above graphic). (20 points)
Annual Property Tax: Annual property tax amount within each city based on the median home value. (20 points)
Population Growth: Each city's 10-year population growth. (20 points)
Annual Return: Represents the annual profit an investor could potentially make if a home was financed based on a 30-year mortgage with a 4% fixed interest rate. This potential profit includes factoring in home insurance and property taxes, but does not include factors such as closing costs, maintenance or utilities. (20 points)
For media inquiries, please contact media@digitalthirdcoast.net