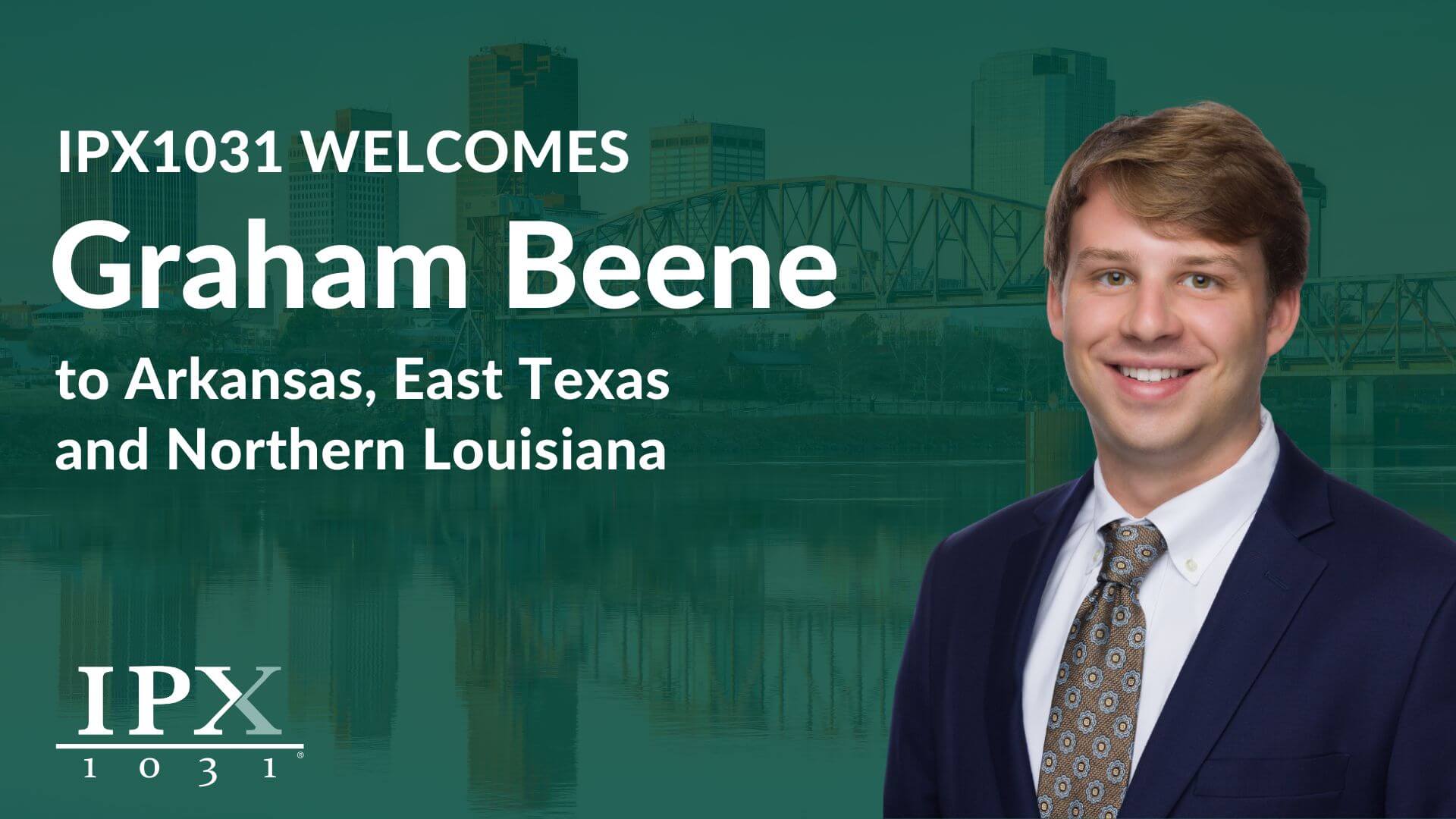 IPX1031 Arkansas, East Texas and Northern Louisiana Amps Up 1031 Coverage with Graham Beene ​ 
IPX1031 Promotes Graham Beene into 1031 Exchange Sales
DALLAS, TX (October 12, 2023) – Investment Property Exchange Services, Inc. (IPX1031) is pleased to announce the transition of Graham Beene into the sales role of Account Executive for the IPX1031 Central Region.
"We are excited to have Graham make this transition to our sales team," said Scott Nathanson, IPX1031 Executive Vice President and manager of Eastern Operations. "Graham is going to bring IPX1031's 1031 Exchange expertise to an area we believe in the past has been underserved.  The Central Region covers a large geographic area and it's time for an energetic professional to fill that need."
Graham comes from a real estate investor family and received his Bachelor of Business Administration in Real Estate from the University of Mississippi. "With his strong business acumen, a friendly outgoing personality and a solid year of detail-heavy 1031 Exchange processing under his belt, Graham will make a fantastic addition and resource to our growing sales team," added Craig Brown, manager of IPX1031 Central Region.
Graham's responsibilities will include educating and consulting with clients as well as tax, legal, and real estate professionals to structure 1031 Tax-Deferred Exchanges locally at the IPX1031 Dallas headquarters and throughout Arkansas, East Texas, and Northern Louisiana. 
Graham along with the IPX1031 Central team, bring the most comprehensive 1031 knowledge, tools, and solutions that the 1031 industry can offer.
Graham Beene can be reached at 972.371.5374, via email at graham.beene@ipx1031.com or his webpage at www.ipx1031.com/beene. 
---
About IPX1031
Investment Property Exchange Services, Inc. (IPX1031) is the largest and one of the oldest Qualified Intermediaries in the United States. As a wholly owned subsidiary of Fidelity National Financial (NYSE:FNF), a Fortune 500 company, IPX1031 provides industry leading security for exchange funds as well as expertise and experience in facilitating all types of 1031 Exchanges.  IPX1031's nationwide staff, which includes industry experts, veteran attorneys and accountants, are available to provide answers and guidance to clients and their legal and tax advisors.  For more information about IPX1031 visit www.ipx1031.com.
---
How Important is Your Qualified Intermediary?
Safety and Security for Investors
1031 Exchange and Defer? Or Sell and Pay Taxes?
Capital Gains Estimator
IPX1031 Knowledge Center
---