Small Business Statistics: 57% of Americans Willing to Pay More at Locally-Owned Shops
Report Also Ranks States With The Fastest Growing Small Businesses in the U.S.
​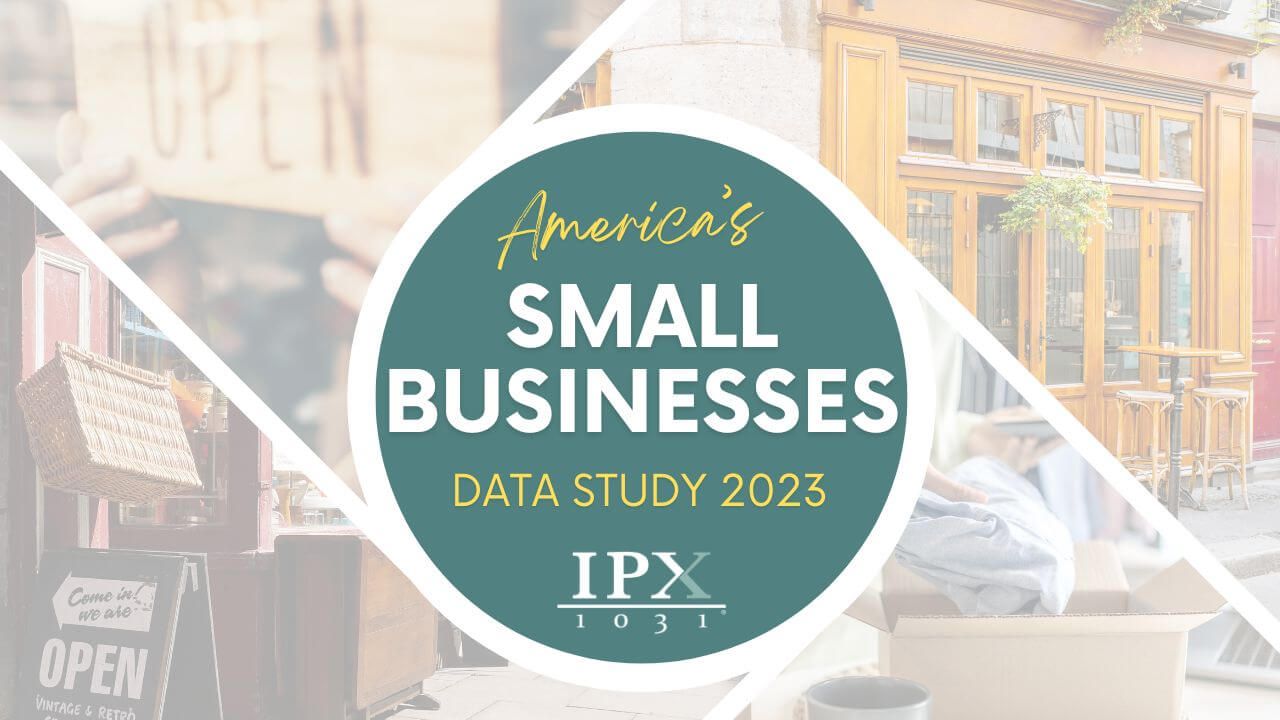 In the ever-evolving landscape of American entrepreneurship, small businesses are vital. With more than 33 million small businesses in the U.S., we wanted to take a deeper dive and find out where these businesses are thriving. By analyzing U.S. Small Business Administration data, we found the areas where small businesses are growing and the states home to the most locally owned establishments. Through a survey of Americans about their commitment to shopping locally, we found the majority of people are willing to pay more to support local businesses in their communities.
Supporting Small Businesses in America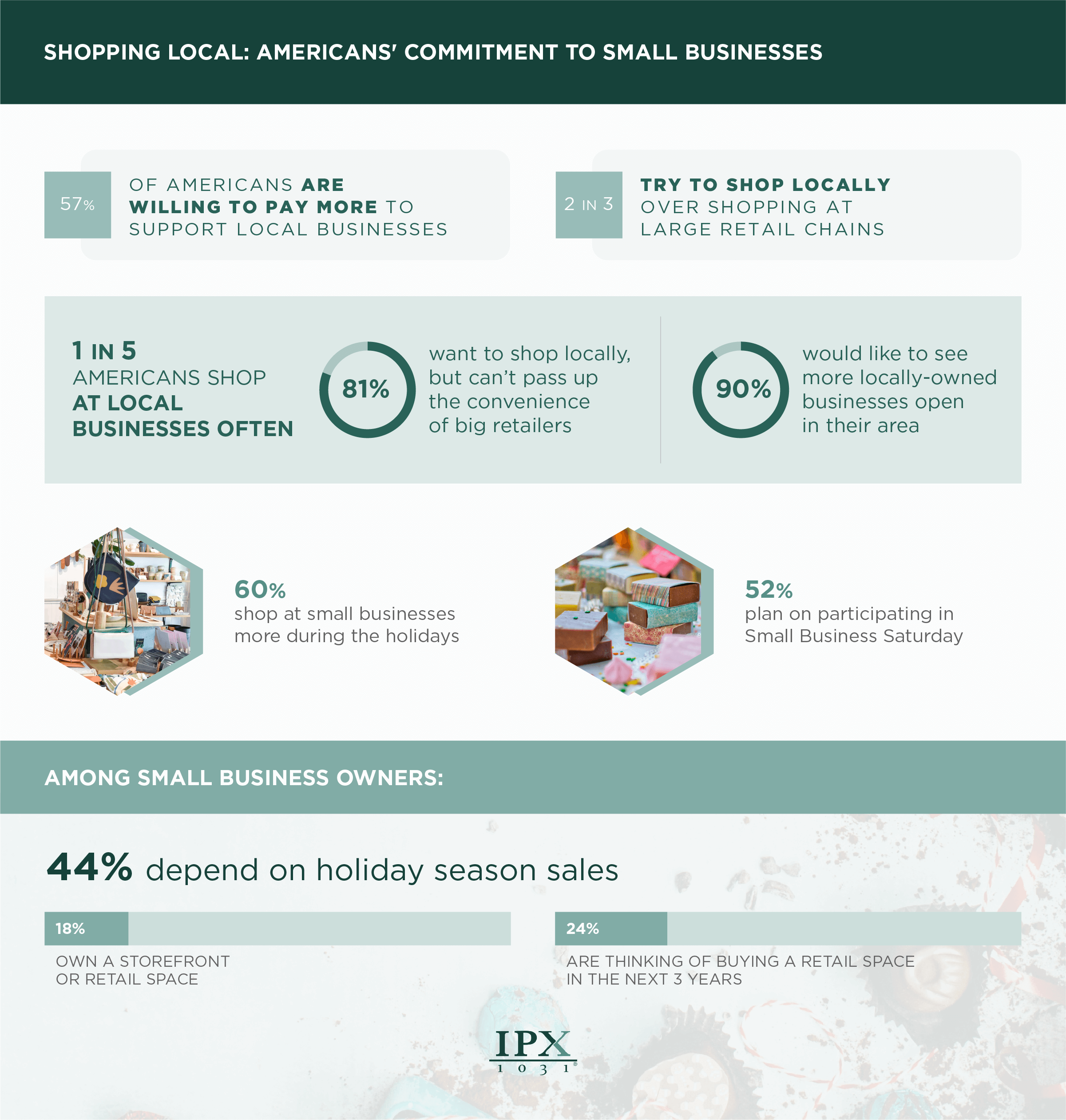 When it comes to small businesses, Americans are proving to be steadfast supporters. In fact, 57% say they are willing to pay more to support local businesses and 2 in 3 try to shop locally over shopping at large retail chains. Around 1 in 5 Americans say they shop at small businesses often. More than 3 in 4 (81%) want to shop locally, but say sometimes it's just too hard to pass up the convenience of big retailers. When it comes to shopping at local businesses, 90% would like to see more open in their area, and 60% shop at small businesses more during the holidays. More than half (52%) plan to participate in Small Business Saturday.
Among small business owners, 44% depend on holiday season sales, and 18% own a storefront or retail space. Nearly 1 in 4 (24%) are thinking of buying retail space in the next three years.
Small Business Growth and Employment Trends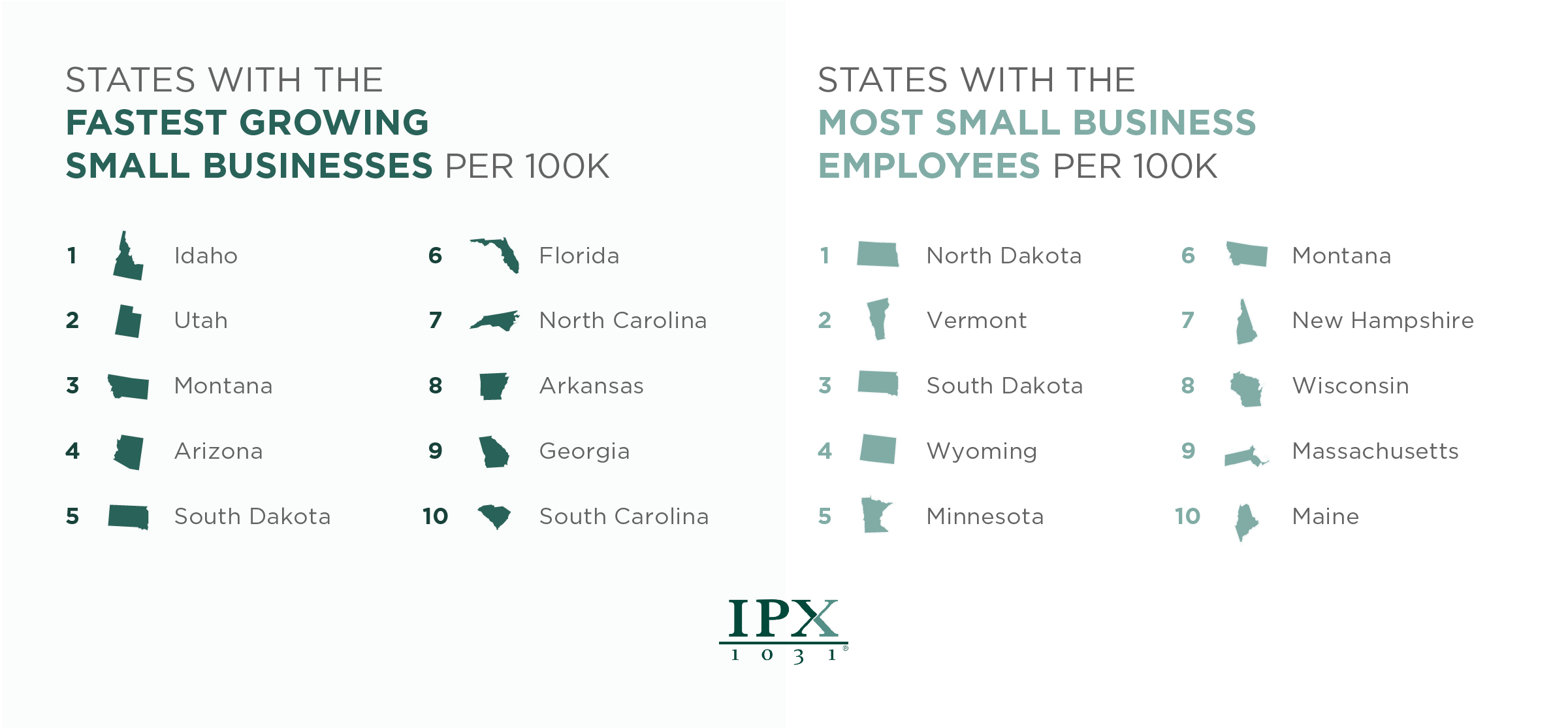 While some states have more small businesses than others, we wanted to find out where small businesses are growing the fastest. By analyzing data from the U.S. Small Businesses Administration, we found Idaho to be the state with the fastest growing small businesses per 100,000. Following Idaho are Utah, Montana, Arizona, and South Dakota. Also states in the top ten include Florida, North Carolina, Arkansas, and Georgia.
Additionally, the states with the most small business employees per 100,000 include North Dakota, Vermont, South Dakota, Wyoming, and Minnesota.
The State of Small Business Across the U.S.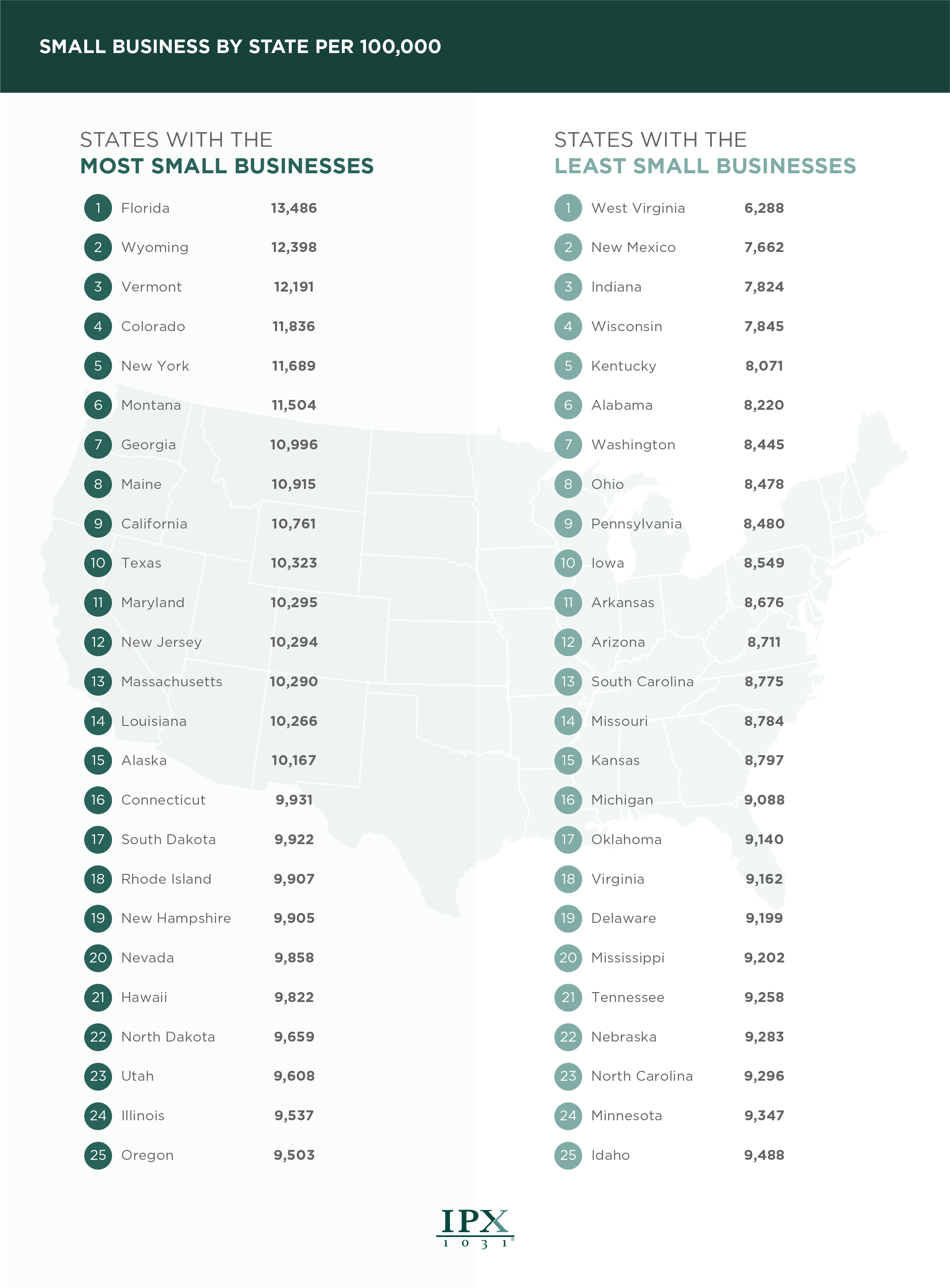 Florida leads the country with the most small businesses per 100,000 people. The Sunshine State has 13,486 small businesses per 100K. Wyoming and Vermont aren't far behind, with 12,398 and 12,191 small businesses per 100,000 residents, respectively. Other states home to the most small businesses include Colorado, New York, and Montana.
On the flip side, when examining states with the least small businesses, West Virginia tops the list with just 6,288 small businesses per 100K. New Mexico and Indiana also fall into this category, with 7,662 and 7,824 small businesses respectively. Other states with a lower number of small businesses include Wisconsin, Kentucky, and Alabama.
Small Business Industries Across America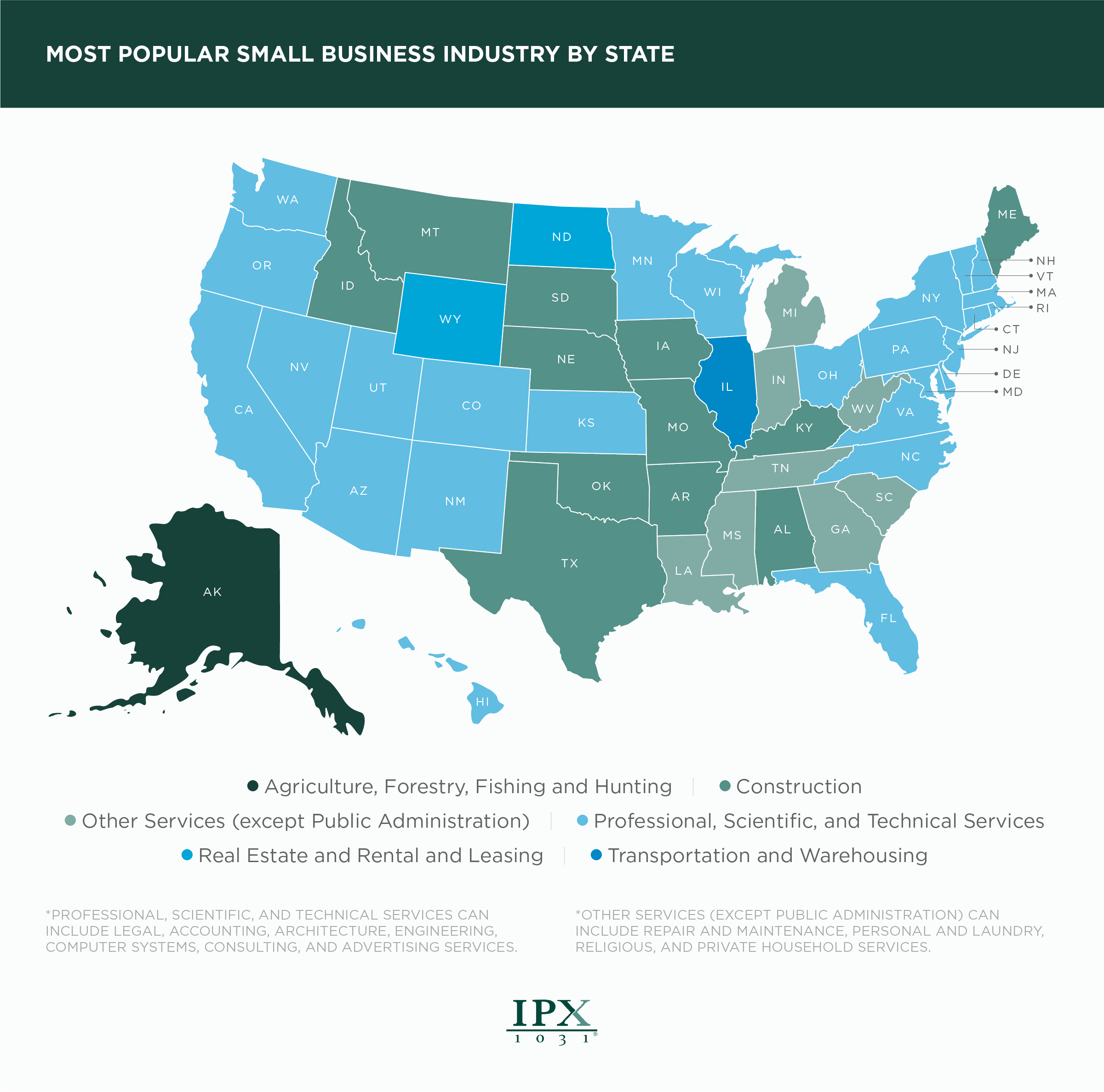 When it comes to the most popular small business industries in each state, The professional, scientific, and technical services sector dominates as the top industry in 27 states including Arizona, California, Colorado, Connecticut, Delaware, Florida, Hawaii, Kansas, Nevada, New Hampshire, New Jersey, New Mexico, and New York. This industry can include legal, accounting, architecture, engineering, computer systems, consulting, and advertising services.
Meanwhile, construction takes center stage in 12 states including Alabama, Arkansas, Idaho, Iowa, Kentucky, Maine, Missouri, Montana, Nebraska, Oklahoma, South Dakota, and Texas. Additionally, the real estate and rental and leasing sector lead in both North Dakota and Wyoming.
Other services, excluding public administration, capture the entrepreneurial spirit of Georgia, Indiana, Louisiana, Michigan, Mississippi, South Carolina, Tennessee, and West Virginia. This industry includes repair and maintenance, personal and laundry, religious, and private household services.
---
Thinking of buying a retail space for your business? If you're considering becoming an investment property owner, or already own an investment property, learn more about how a 1031 Exchange can help preserve your assets when selling and buying. Then check out our Capital Gain Estimator to see how much you could potentially defer through a 1031 Exchange.  Investment Property Exchange Services, Inc. (IPX1031) is the nation's largest and most secure 1031 Qualified Intermediary.
---
Methodology
In September 2023, we conducted a survey of 1,003 people from across the U.S. on their shopping preferences when it comes to small businesses. Among respondents, 49% identified as male and 49% as female with an average age of 41.
Data on small businesses was sourced from the U.S. Small Business Administration's 2022 Small Business Profiles for the States, Territories, and Nation.
For media inquiries, contact media@digitalthirdcoast.net
Fair Use
When using this data and research, please attribute by linking to this study and citing IPX1031.
---
Read more:
1031 Exchange and Defer? Or Sell and Pay Taxes?
2 Is Better Than 1: A 1031 Win with Dual (Mixed) Use Property
Underperforming Real Estate Assets Ripe for 1031
Five Reasons to 1031 Exchange
1031 Exchange Trends and Info for 2023
Cities With the Most Renters and Homeowners
Best Large Cities to Buy Investment Property 2020