Update: 2023 Survey Provides New Insights on Cameras in Vacation Rental Properties.
---
First impressions can go a long way. When it comes to owning and operating a vacation investment property like an Airbnb, the guest's first impression of you as a host can either make or break their decision to rent a property. Traits such as trust, the host's online profile and even the host's gender can play a role when booking. We asked 2,000 Americans who have stayed in an Airbnb about their feelings toward Airbnb hosts in an online satisfaction survey. Here's what they had to say.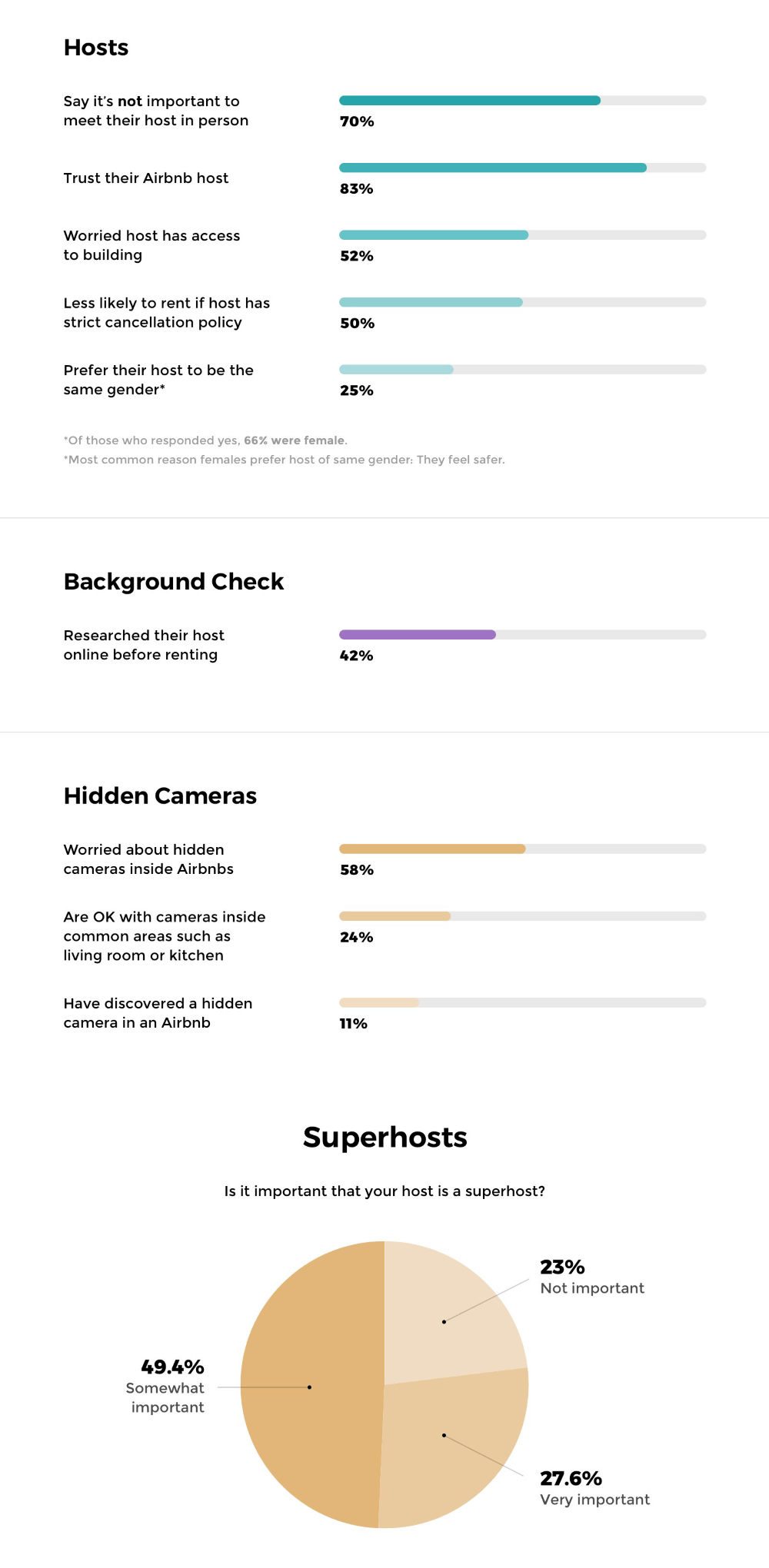 ---
Meeting a Host?
Speaking of being a good host, how important is it that you meet your guests in-person? According to our survey, only 30% feel it's necessary to meet their host. A majority would rather communicate virtually or over the phone and be able to access the property through a lockbox or keypad. And while most respondents said they trust their Airbnb host (83%), more than half are still leery about the host having access to the property (and their belongings) 24/7.
According to respondents, gender can also play a role when booking an Airbnb. A quarter of respondents said that they prefer their host to be the same gender. Of those respondents, 66% were female. A majority said they feel safer when the host is the same gender.
---
Privacy
When it comes to keeping an eye on guests, about one-quarter said they are OK with the host having security cameras inside common areas, such as a living room or kitchen. However, 58% are concerned that property owners may have hidden cameras within their Airbnb.
---
Superhosts
Gaining insight into what guests what and don't want could help property owners become great hosts, or even "Superhosts." Airbnb defines a "Superhost" as someone who provides an exceptional experience for their guests and goes above and beyond in terms of cleanliness, amenities and communication. According to our survey, most feel that "Superhost" status is either "very important" or "somewhat important" when looking for a rental.
---
Rooms and Cost
Depending upon the layout of your property, you may be able to rent out several rooms, a guest house or the entire property to guests. However, it might be important to keep in mind that more than half of renters prefer to rent an entire house without the host living on the premises, according to our survey. Even though living on the property while renters visit might give you peace of mind, it's clear that privacy goes a long way for guests.
---
According to respondents, Airbnb trust is important. First impressions and trustworthiness certainly go hand in hand when it comes to renting an Airbnb. If you're an investment property owner, or thinking about becoming one, these are factors to keep in mind before you list your property and welcome your first guests. To learn more about how a 1031 Exchange can help preserve your assets when selling and buying investment properties click here.
---
Methodology
We surveyed 2,023 Americans utilizing Amazon's Mechanical Turk platform from April 2 to April 7, 2019. Of those respondents, 56% were female and 44% were male. Participants had a mean age of 34.
For media inquiries, please contact media@digitalthirdcoast.net
---
Update: 2023 Survey Provides New Insights on Cameras in Vacation Rental Properties.