1031 Exchange transactions have been on the rise this year.  What's also been trending is the sharp increase in the need for Reverse Exchanges.  With limited available inventory and market aggressiveness, or even just wanting to secure your ideal Replacement Property, you may find yourself in a situation where a Reverse Exchange is your best investment option.
As the name implies, a  Reverse Exchange is the opposite of a  Delayed/Forward Exchange. In a Reverse Exchange, new Replacement Property is acquired before the investor sells their Relinquished Property.  While this structure is more complex than a Delayed/Forward Exchange (sell first, purchase second), it may give you the advantage you need to make the most solid of investments.
To ensure a successful 1031 Exchange or Reverse Exchange, here are some key components to keep in mind: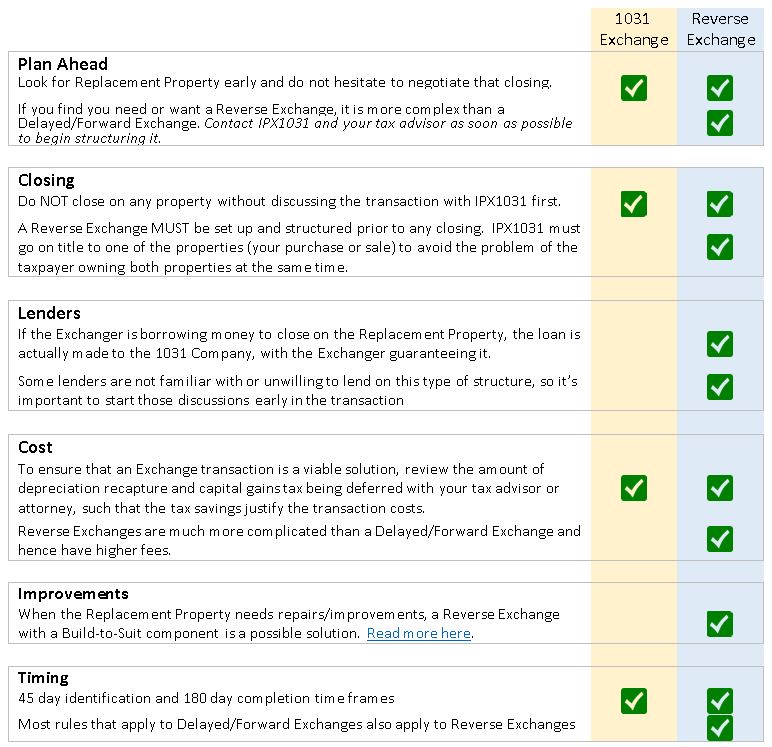 Regardless of the type of 1031 Exchange you choose, our IPX1031 specialists are standing by to help make your transaction a smooth process. For more details, read Planning Ahead for a Successful Exchange and How to Initiate a Reverse Exchange. As with all investments and wealth maintaining strategies, we advise you to seek the advice of your legal and tax advisors for your specific situation. IPX1031 is the largest national qualified intermediary providing a full suite of services. IPX1031 also has the largest and most experienced Reverse and Improvement Exchange division in the country specializing in transactions for REITS, life insurance companies, businesses and individual investors. Contact IPX1031 to discuss your 1031 Exchange solution.